https://www.secondwavemedia.com/metromode/features/swing-farmington-june-2019.aspx

|

Wednesday, June 05, 2019
How downtown Farmington got its swing
Swing dancing's trendy mainstream revival in the 1990s – which spawned everything from a classic "Jump, Jive an' Wail" Gap commercial to Jon Favreau's cult-hit indie romantic comedy, "Swingers" – came to a pretty abrupt close with that decade.
But you'd never guess that if you came to downtown Farmington on a summer Thursday night.
In Riley Park's Sundquist Pavilion, about 200 people of all ages (though the average skews young) gather weekly to Lindy Hop, Jitterbug, and Charleston their cares away by way of Swing Farmington.
"I fell in love with it from the first night," says Melvindale's Amber Konjarevich, 25, who first attended with friends in 2013. "Over the years I've made some of my best friends at Swing Farmington, who have been there for me and will be lifelong friends. I love being able to bring new people and have them experience the joy that [Swing Farmington] brings to me. The energy is always so positive, and it's a great way to bring people together."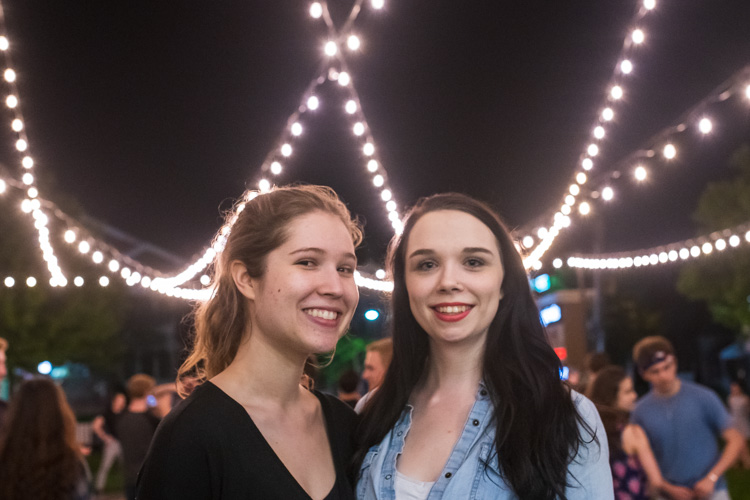 Phoenix Dempster, Amber Konjarevich. Photo by Doug Coombe.
How did swing dancing come to prominence again at the local level, despite not being as popular in the broader culture?
To answer that question, you have to go back to 2007, when local homeschooling families started having get-togethers for their teens at the Sundquist Pavilion on Thursday nights.
"A lot of the homeschool families knew each other already," says Alexander Steward, who's been organizer and DJ for Swing Farmington since 2010. "It's a pretty tight-knit community."
Some of the teens had learned to swing dance by way Swing Ann Arbor, based at the University of Michigan, and Friday Night Swing, a weekly program offered (in Ypsilanti) by Ann Arbor Community for Traditional Music and Dance's (AACTMAD) Ann Arbor Swing Dance Association (AASDA).
"A few of the homeschoolers started going, but they were in high school, and everyone else was a lot older than them – like a 10 to 15 year age difference," says Steward. "So even though they enjoyed going, they started feeling like it wasn't quite the right atmosphere for them. … That's why our group started. They just wanted a place where they could dance, so they were like, let's meet up at the park and do it there."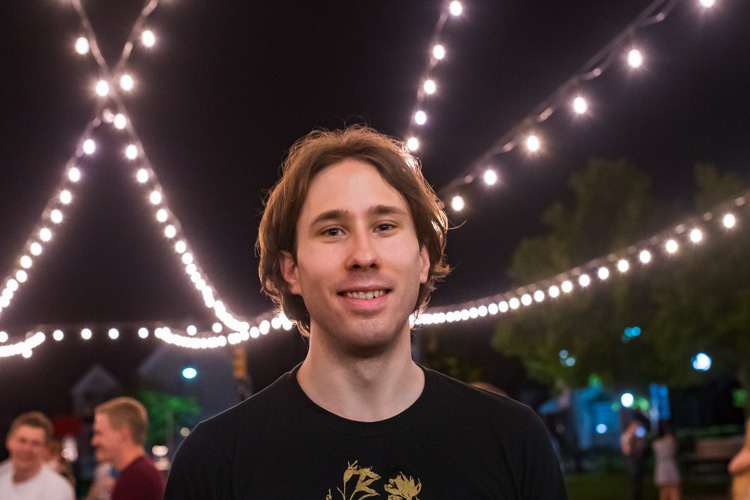 Alexander Steward. Photo by Doug Coombe.
Steward first attended Swing Farmington as a college student in early 2009.
"A lot of my friends were going, and I reconnected with people I hadn't seen in years," says Steward. "So I started this journey by going to Swing Farmington as a dancer, and then later, the opportunity arose to take over."
But what makes Swing Farmington so appealing to attendees who come out every week from across Metro Detroit?
Perhaps it's partly the spacious outdoor venue in the heart of Farmington's downtown, with businesses like Starbucks, Dagwood's Deli, and Coldstone Creamery just steps away. "The atmosphere in the summer, dancing outside with the moon and the stars [out], feels whimsical," says Steward. "I've gotten that comment a lot from different people who have attended over the years."
But it's also probably the social nature of partner dancing, and the welcoming, relaxed atmosphere Steward has always strived to maintain.


Swing Farmington. Photo by Doug Coombe.
"It's a great way to work off some energy, and we're not a formal group," says Steward. "Some groups are very formal in the styles of swing dancing they do, or they may only play one kind of music – things like that. One of the things that makes Swing Farmington special is that we're not just playing old jazz. We might play some hiphop, some rock and roll, some pop, from all different eras. … I might play a song from 1935, and then, right after that, play one that came out in 2019. … Those kind of jumps are part of what makes Swing Farmington unique. People really like that we do that. … And that's what dancing's supposed to be about. Making people smile, feel happy, feel joy, and maybe make some new friends, too."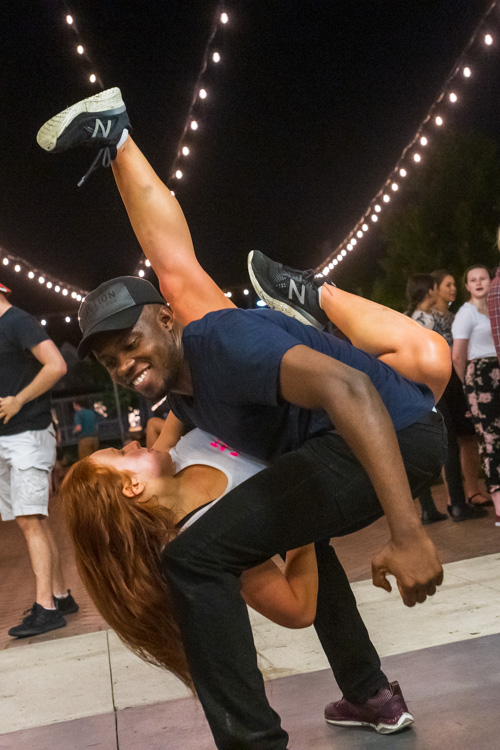 Swing Farmington. Photo by Doug Coombe.But music isn't the only space for diversity at Swing Farmington.
RJ Spangler, 62, is a Grosse Pointe-based bandleader and musician whose band, Planet D Nonet, plays at Swing Farmington's annual live music event, the Summer Swing Spectacular (scheduled this year on August 8), says that one of SF's biggest appeals is "the broad range of ages and races. All are welcome."
Yes, while Swing Farmington began with a group of local teenagers, and still largely tends to draw teens and twentysomethings out on Thursday nights, Steward has, in recent years, been trying – by way of initiatives like Swing into Spring at the Farmington Farmers Market, and the Summer Swing Spectacular – to encourage locals of all ages to give Swing Farmington a try.
"The Summer Swing Spectacular is our biggest event," says Steward. "We get a lot more community members out for that. … Families will come. Sometimes the kids will run around while the parents dance. … I love seeing that, and I hope it will become more of a mainstay. … The whole idea is we want to be a community gathering spot. We've been getting there, but slowly. It takes time."
Of course, dancing outdoors loses much of its appeal when temperatures drop, so during the winter, Swing Farmington moves indoors (to Farmington Hills' St. John Lutheran Church) for a handful of scheduled meet-ups.
But these days, Swing Farmington attendees can finally twinkle a toe or two beneath the twinkling stars once again, with Steward spinning a broad array of tunes.
Does he ever miss being out on the floor instead of working behind-the-scenes?
"Not really," Steward says. "I've been doing this for such a long time, working as the organizer, that it's become second nature to me. And there's a lot of joy in putting together an event, putting it on for other people. … I enjoy that a lot."